Love the design, but want a different product?
No problem! Most of the products you see on this site (shirts, posters, mugs, etc.) are printed to order, which helps eliminate wasteful manufacturing excess and also allows me to offer designs on a wider variety of products! So if you're looking at a poster design you love, but you want it on a tank top, just reach out to me at michelle@polliadesign.com or message me using the chatbox in the corner of your screen, and I'll set up the new product for you! If typing a message and interacting with a human feels exhausting, I get it :) You can still see some other product varieties on my Redbubble shop page.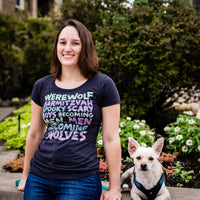 Thank You for Supporting Independent Artists!
Thank you THANK YOU thank you for choosing to shop from small, independent designers like myself. Each item for sale on this page was designed by me, Michelle, personally, and every purchase genuinely makes me smile and want to be your friend - because, I mean, I think you have excellent taste and we obviously have a lot in common!
More About the Designer