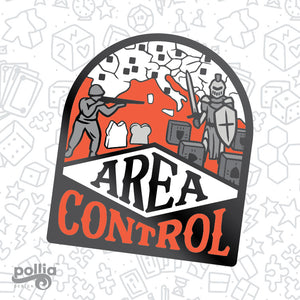 A long awaited addition to the Board Game Genre enamel pins set - Area Control! Featuring lots of bits and chits and a battle attitude that'll make you want to take up your whole table with a long, heavy game.
Now available for PREORDER until late August, 2022. Pins are scheduled to ship in September 2022.
This pin will be 33mm tall (the same size as its sister pins in the rest of the set), hard enamel with black nickel plating and a double pinback for secure fastening.

To save disposable packaging from landfills, the pin will ship to you in a single protective baggie. If you'd like a backing card (for yourself or if you're giving the pin as a gift and want it to have that extra flair) please add this backing card product to your order as well so I know to wrap it up all cute. I'll pack up any pins you order with backing cards!